One of my goals this year is to improve recess time at my school.  The students are all expected to be outside during recess, but otherwise, they can do whatever they want.  Unfortunately, some do not choose to be active during that time.  So, from my corner of the world as PE teacher I am trying to help encourage activity.  Here are some things I have done:
First, I put together this awesome recess cart!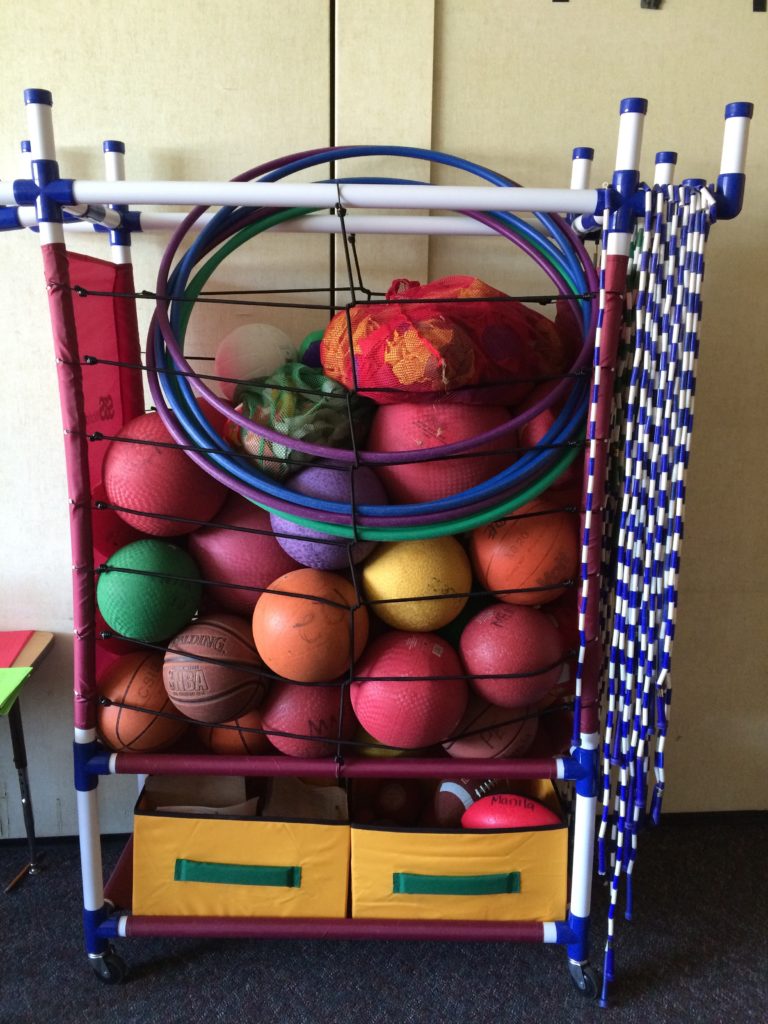 The school paid for the cart, and I had enough excess equipment to stock it.  I presented it to all my classes during the first week of school and talked about care and expectations with the equipment.  Now it is watched over by an aide at recess and students can check out any equipment.  I told my students it is like a "recess library".
Next, after any activity we do at PE, I try and point out to them that this is something they could do at recess if they enjoyed it.  I want to expand their thinking on ways to be active.  Even if you don't want to join in the soccer game, you can still be moving.
And, this week I have been teaching old-fashioned classic games that seem to have died off a bit.  I taught them 4 square.  This one is always popular, I just needed to clarify basic rules.  Then, I taught tetherball.  Our tether balls had been removed because the kids were sitting on them and snapped all the ropes.  Our custodian fixed them for me and I am trying to teach the kids how to play the game properly.  They are very excited about the tether balls joining the recess cart soon.
Finally, I taught them the real rules of hopscotch.  I attended a conference last fall and learned the "big kid" rules.  I couldn't believe how fun and challenging it was!  I've gotten eye rolls from my 5th and 6th graders when I told them we were going to play hopscotch.  Once I teach them the kick-out method, they have loved the challenge and had a blast with it.  And, some of my more difficult, hard-to-move kids have found something they like!  I highly recommend this classic, fun, and challenging game.  You can watch a video of the kick-out method here
Hoppy taws are also available for purchase on the hoppy taws site.
Give it a try!  I bet your students will love these classic games too!